Product Center
40.5kV Environmentally friendly Gas-insulated Metal-enclosed Switchgear
GPN2N-40.5kV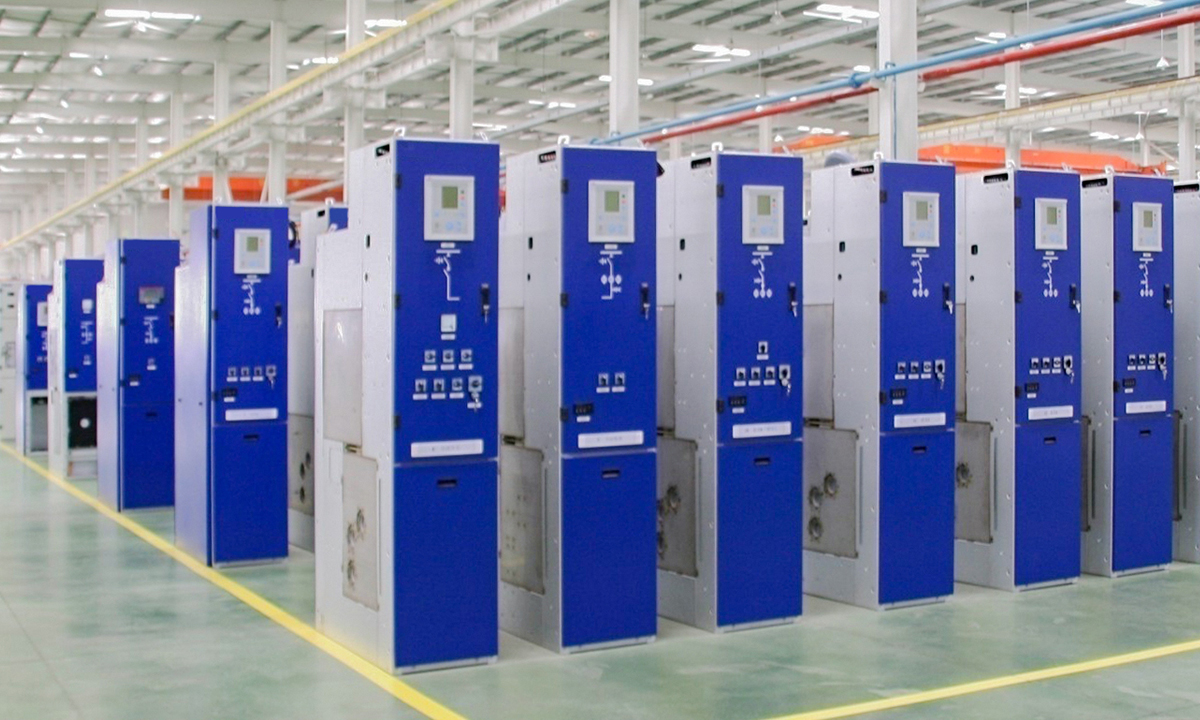 Product description
Genearal
Cubicle type Gas Insulated Switchgear(CGIS) is an indoor, factory-assembled, metal-enclosed, cubicle type gas-insulated switchgear for single busbar applications, including "Green Type" GPN2E-40.5, GPN2N-40.5 and "Standard Type" GPN2S-40.5.

The "Green type" GPN2N-40.5 is innovated to use pure nitrogen as insulation gas for the series product with Non-SF6 gas insulation technology, which has brought the genuine green environmental protection of gas insulated switchgear.

The "Green type" GPN2E-40.5 incorporates the advanced technologies of mixed gas-insulated ( SF6+N2 ) and vacuum breakers, allowing the equipment to operate in a more reliable and environmentally friendly manner.

The "Standard type" GPN2S-40.5 is of 100% SF6 insulated, high performance and easy use.

With modern digital manufacturing and automatic testing coupled with sensor, monitor and protection technology, CGIS is ideal fit for

power distribution demands. CGIS is particularly suited to industries with high reliability requirements such as Power Networks, Mining,

Rail Transportation, Petrochemical Plants, Wind Farms and Metropolitan Rail Systems.

Normal operating condition:

The switchgear is fundamentally designed for the normal service conditions for indoor switchgear to GB 3906, DL/T404 and IEC 62271-200.
Ambient Condition
Maximum air temperature: +45℃

Minimum air temperature: -25℃

Daily average maximum temperature: +35℃

Humidity:

Daily average value of relative humidity: ≤ 95%

Monthly average value of relative humidity: ≤ 90%

Daily average value of water vapor pressure: ≤ 2.2 × 10-3MPa

Monthly average value of water vapor pressure: ≤ 1.8 × 10-3MPa

Altitude: ≤ 1000m

The ambient air is not significantly polluted by dust, smoke,

corrosive and/or flammable gases, vapours or salt.

* Special ambient condition please consult with Greenpower when engineering.
Reduce Greenhouse Gas Emissions
CGIS incorporates the advanced technologies of pure Nitrogen or mixed gas-insulated ( SF6 + N2 ) and vacuum breakers, a fundamental choice made by GP to assist in reducing the greenhouse effect. SF6 (sulphur-hexafluoride ) is on the list of greenhouse gasses in the Kyoto Protocol, with a Global Warming Potential ( GWP ) of 23,000. Many other medium voltage switchgear systems use SF6 gas as the only insulating medium. Leakage of SF6 gas from switchgear contributes to the threat of the greenhouse effect and associated climate change.

With our commitment to protection of the environment, CGIS helps reduce greenhouse gas emissions by utilising mixed gas-insulated technology together with vacuum switching technology.

A 100% or 50% reduction in SF6 is achieved by using Nitrogen ( N2 ) mixed gas-insulated breakers. Nitrogen is the largest component of air and its arc decomposition product is non-toxic. Joined together by plug-in connectors and the modular nature of the panels ensures ease of installation and extension without the need for extra gas handling activities on-site.
Advantage
70% Reduction in switchroom size.

Maximum safety for operator and equipment.

Easy installation/low operation and maintenance cost.